Segmentation is the process of dividing a target market into smaller groups who share similar characteristics—demographics, lifestyles, behaviors, needs—so that a company can target the audiences that maximize the fit and opportunity for the company's portfolio of products and services.
Companies almost universally recognize the need for market segmentation, but many struggle to integrate the segmentation framework into the fabric of their marketing strategies and tactics.
In our view, the most successful market segmentations carry a bias toward action. The first step is to develop an analytically actionable segmentation using a phased protocol similar to the below.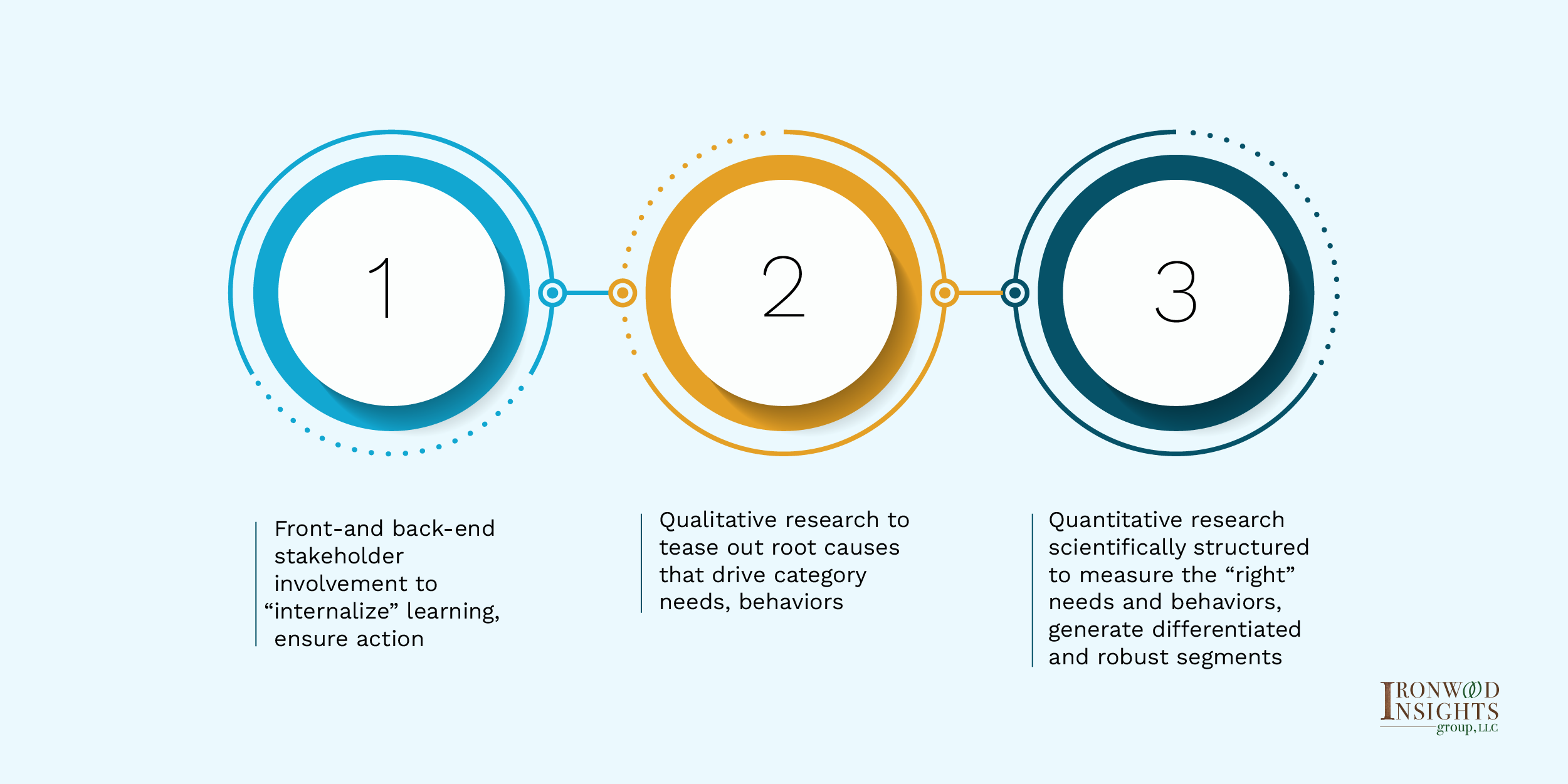 Often marketing organizations become so consumed by the process of developing the segmentation framework, that they lose sight of this most important part of the process, implementation. To facilitate an organizationally actionable segmentation, an implementation protocol is vital to ensure that marketers stay focused on the right parts of the market, with the right products and the right messaging to build a deep brand affinity with key segments.
So Now What?
How do marketers typically take that next step to implement their shiny new market segmentation?
Some companies do more research on key target segments: follow-on qualitative research to contextualize category attitudes and behaviors, persona development to contextualize "lived experiences," and/or quantitative research to fine-tune products and communications aimed at addressing the unique needs of key segments.
Not bad. As a leading insights firm, Ironwood generally applauds efforts to improve market and consumer understanding. But, additional primary research requires additional time and resources—on top of the significant segmentation outlay—which can decelerate the critical implementation process.
What if there was another way to jump-start the segmentation implementation process and accelerate the company's journey toward profitability and growth?
Enter PersonaPanels' Virtual Panel of Animated Personas™.
Living Segmentation: A New Paradigm in Market Research
Our strategic partner, PersonaPanels, has developed an innovative platform that employs AI technology to turn segmentation data into machine learning bots called Animated Personas. These Animated Personas™ not only mirror the attitudes and behaviors of your key segments but are also informed by current trends in the marketplace and changing consumer preferences.
How does it work?
Build


Virtual Panels of Animated Personas™ are built with demographic, attitudinal, behavioral, and psychographic elements from your segmentation and can be refined with supplemental, ad hoc survey information.

Launch
Once built, Animated Personas™ are plugged into the Internet, where they peruse sites at will or visit defined category-specific sites. They read just as humans do, but at a much faster rate, viewing upwards of 20,000 articles a day.

The Animated Personas™ consume information and evolve daily, based on real-time events in areas that are aligned with their segment-specific traits.

Maintain
The Animated Personas™ are available at any time for the client to monitor the real-time habits, interests, and behaviors of their key segments:

Spot changing trends… in real-time

Understand evolving influences acting on your key segment(s) based on their interest in and reaction to trending topics, keyword searches, etc.

Evaluate segment-specific product ideas and concepts… to maximize consideration and adoption

Evaluate segment-specific advertising and messaging concepts… to maximize persuasion
The Superpowers of Animated Personas™
Efficient
The Virtual Panels of Animated Personas™ are "always on," available 24x7 to evaluate messages/concepts. And unlike survey research, they do not require segment typing, screening, incentives, or ad hoc surveys time after time; yielding greater time- and cost-efficiency.

Secure
Unlike human respondents, Animated Personas™ present no risk to developmental or confidential information. Test ideas, concepts, and other confidential information without risk of open exposure.

Quality
Animated Personas™ are immune to fatigue and tedium. So, you can present multiple ideas/concepts per test without impacting data quality—no risks of respondent wear out, speeding, or cheating.

And there are no residual biases from previous ideas and messaging. Animated Personas™ see each message as unique, with no sensitization from prior exposure.

Dynamic
Segmentation data and constructs erode over time which can undermine the effectiveness of your segment-specific target marketing efforts.​ However, the dynamic nature of the Virtual Panels of Animated Personas™ extends the life of your segmentation.

The Animated Personas™ continually evolve based on their constant review of the current events and content that are available to them via the Internet. As content is consumed, the Animated Personas™ evolve and grow from the content, which provides more accurate assessments of messages and concepts. ​
The unique coupling of an analytically rigorous segmentation protocol and an innovative, forward-looking implementation protocol is key to reaching the most valuable parts of the market with better-designed and executed marketing strategies, as well as to delivering greater opportunities for revenue and profit potential.
Ironwood Insights is the "Swiss Army Knife" of insights firms – we have the tools to address any business issue or data collection challenge. Contact us today to find out more about how we can help you.