Understanding a Brand's Market Share is the Goal
A brand is an amalgam of thoughts, feelings, associations, experiences and memories that each person has from previous encounters with the brand. Building brand strength in today's service-oriented world takes a continued focus on those attributes that are most important to the customer. It is no longer good enough to be "just one of the pack." And when attempting to create a brand, building equity becomes even more complicated and challenging.

For that reason, Ironwood Insights Group has developed IronBrand Market Tools, a foundation for brand building that reflects all of the ways consumers interact with the myriad brand choices available in today's market. Our ability to evaluate businesses from multiple perspectives allows us to partner more completely with clients to cut through the complexity of brand building. We provide clear answers to branding questions in areas like positioning, strategy, product development, communications, customer satisfaction, and competitive response.

Brand health includes psychological commitment, or bonding, as well as the impact of market factors – dynamics that may work in favor of or against a brand's performance in the marketplace. This provides a unique lens that most brand health models fail to incorporate into their analyses.

Our Brand Equity Model is a brand measurement system that combines the measurement of Attitudinal Equity with Market Effects to model a brand's future growth potential and reflect how consumers make decisions. The brand monitoring model is built on three key metrics: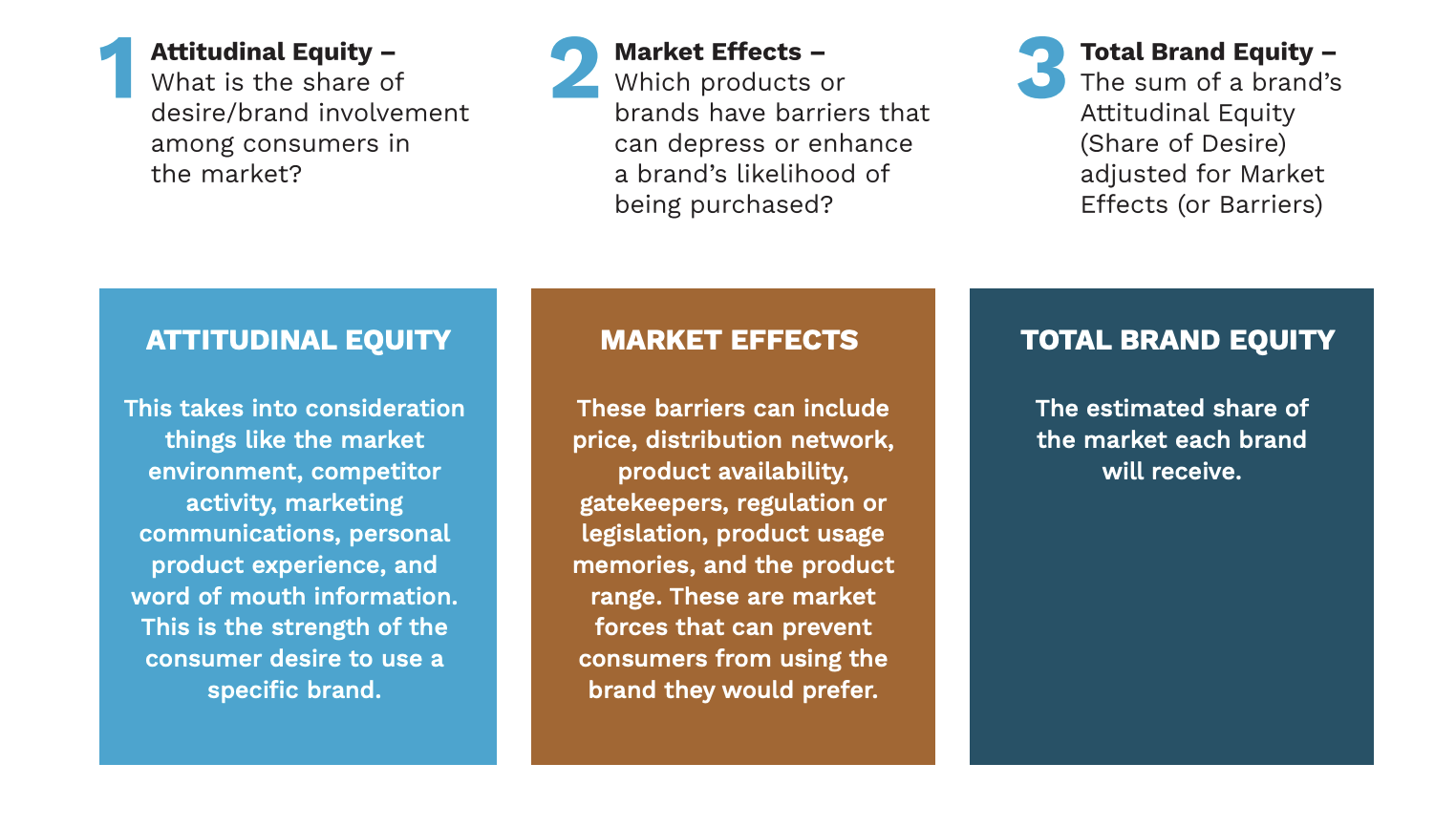 The Brand Equity Model


Market effects are physical barriers to product purchase, such as affordability, sold at my store, had a previous bad experience, etc. If a brand has fewer barriers than competitors, then the net market effect will be positive and add to the total brand equity. If a brand has more barriers than competitors, then the net market effect will be negative and drag down total brand equity. In this example, Brand 1 is clearly benefiting from market effects while Brand 4 is losing share-of-wallet due to market effects.
Sample IronBrand Output


So, How Can IronBrand Help You?
Identify the market effects that influence your brand's share-of-wallet.
Pull market share from competitors through strong management of market effects.
Understand which competitors are the biggest risk to your brands and why.
Why is IronBrand the Best Approach?
We provide you with information that directly relates to your business outcomes.
Knowing what market barriers your product faces can help you implement strategies that can improve your share-of-wallet and real returns.
The competitive set in your market is defined by the respondent. The consideration questions identify and evaluate brands that are of interest.
Attitudinal equity is calculated at the respondent level. We can help you to understand those market segments where your brand is strong or weak.





Understanding this information can help senior management to implement strategies that can increase attitudinal equity and reduce the negative impact of market effects.



Let's Get To Work.

Send us a message. Let's get started on building your research strategy.